I'm sure you know the benefits of cooking with a slow cooker. They keep you from spending hours in the kitchen cooking when you can be out enjoying life with the people that mean the most to you.
Article Image From: Cooking Classy
1. Beer Can Chicken
Skip the grill and make slow cooker beer can chicken! Cook a whole chicken in the slow cooker with beer and finish it off on the grill for a delicious, moist chicken.
From: Growing Up Gabel
2. Chicken Cacciatore
When I was researching how to take-on this classic chicken recipe (and make it healthier and easy enough for a weeknight) I discovered that Chicken Cacciatore has so many variations, nobody really agrees what it is exactly. Apparently it hails from Italy and the original dish was something hunters would have made out in the field (or woods) and therefore would be very simple. The chicken would be cut into parts and cooked with herbs and mushrooms.
From: Healthy Seasonal Recipes
3. Buffalo Wings
Hot wings are pretty much a game day staple and we always serve them up with celery, carrot sticks and plenty of Litehouse Homestyle Ranch dressing to cool our taste buds!
From: Spend With Pennies
4. Rustic Chicken
This slow cooker chicken is by far one of my best chicken recipes, which I perfected over years. I could climb mountains for this chicken. People always ask for seconds and rarely there are any leftovers.
From: I Food Blogger
5. Rotisserie Chicken
Rotisserie Chicken dinners are a favorite in our house, when I'm running behind, we snack on the legs and wings (and maybe a few bites of thigh meat) while preparing dinner. Then we chop up the white meat and rest of the dark meat to use on in our simple recipe for dinner.
From: Dinner then Dessert
6. Chicken Fajitas
This Slow Cooker Chicken Fajitas recipe is the simplified lazy version of fajitas. Still all the delicious flavors without as much hassle! Plus it's great for busy days so you can come home to dinner already ready!
From: Cooking Classy
7. Slow Cooker Chicken With Brown Sugar And Balsamic Vinegar
This brown sugar and balsamic slow cooker chicken recipe is oh so flavourful, tender and it's a complete meal all done in a slow cooker. You can throw in your favourite vegetables, and potatoes and only have one pot or in this case, one slow cooker to clean afterwards.
From: Powered By Mom
8. Honey Garlic Chicken & Veggies
We have been living in our new home for less than a week and I have yet to test out the stove. But my slow cooker never fails me, especially in this glorious one pot meal, packed with the most flavor-packed chicken thighs and three different kinds of veggies.
From: Damn Delicious
9. Mongolian Chicken
This Slow Cooker Mongolian Chicken really is my go-to meal whenever I want stress free, hassle free, almost effort free but also want to sink my teeth into a meal that is company delicious.
From: Carlsbad Cravings
10. Chicken Curry
My sister actually came across this recipe for Slow-Cooker Chicken Curry a few years ago and it has been a favourite ever since. We do eat a lot of Jamaican style curry when my husband cooks, and when I cook curry I tend to go with a more Asian style.
From: Frugal Mom Eh
11. Rustic Chicken Stew
To combat the extra cold temps, comfort foods have taken a footing in our household. Take this Rustic Chicken Slow Cooker Stew for example; hearty, satisfying and easy-peasy thanks to your good old slow cooker!
From: Who Needs A Cape?
12. Chicken Burrito Bowls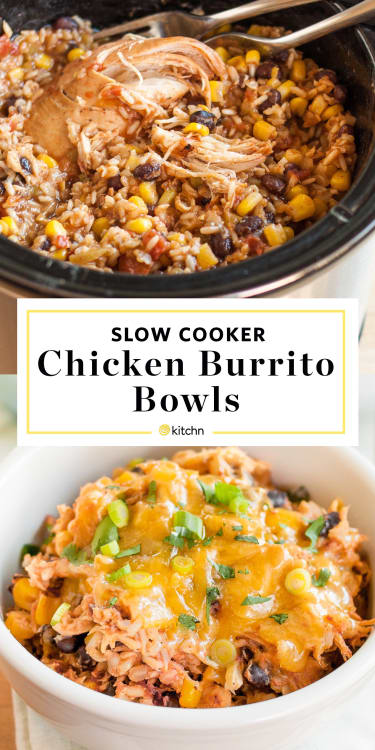 This is my absolute favorite kind of slow cooker recipe — one that takes less than five minutes to pull together and then rewards you with a delicious, healthy dinner at the end of the day.
From: Kitchn
13. Chicken & Noodles
My kids devour this one, and it tastes SO good as leftovers the next day, too. We usually eat this with either a salad or some roasted veggies like broccoli or asparagus, and there are never any complaints at the table when I make this!
From: Belle of the Kitchen
14. Shredded Mexican Chicken
This shredded Mexican chicken is one of those recipes you just need in your life. It has all sorts of uses and the sky's the limit! It is super easy to make because we are using the help from our handy dandy crock pot!!
From: Countryside Cravings
15. Teriyaki Chicken
I always order teriyaki chicken when I go to my local Japanese restaurant. This slow cooker recipe is SO simple to make at home and has all the same great flavors of the restaurant version.
From: Dinner at the Zoo
16. Chicken Marsala
Chicken Marsala is a super popular dish, and for good reason. How can you go wrong with chicken and mushrooms in a savory sauce? Well, I guess if you're not a mushroom lover, but we love mushrooms at my house! This slow cooker chicken marsala is my take on the classic dish. It's a great way to get the flavors of this restaurant favorite with minimal work.
From: Dinner at the Zoo
17. Chicken, Broccoli & Rice Casserole
The flavors come together perfectly in this dairy free chicken casserole recipe to give you the creamy, rich texture of classic version but with some tasty changes. With a few simple, fresh ingredients and about ten minutes of prep work, a healthy and satisfying dinner is on your table in no time.
From: Best of Life Magazine
18. Italian Chicken & Potatoes
This is a great go-to weeknight staple dish. I love the flavors, it's really healthy, and I never get tired of chicken or potatoes. The best part? It's chicken AND potatoes made in one dish at the same time. It's awesome! Even picky eaters are a fan of this simple crockpot meal. I hope you enjoy it as much as my family does!
From: The Recipe Critic
19. Balsamic Chicken
Today's slow cooker balsamic chicken is one that's really easy to prep and requires just a few basic ingredients. All kinds of good things about that!
From: Family Food on the Table
20. Honey Garlic Chicken
This Slow Cooker Honey Garlic Chicken takes only 10 minutes of prep time to throw everything together and is so delicious! All you have to do is mix up the sauce ingredients, chop up your garlic, ginger and green onions and throw it all in the slow cooker along with the chicken.
From: Chef Savvy
21. Asian Glazed Chicken
Fall apart tender chicken breasts (or chicken thighs) filling your house with sweet, honey garlic aromas, perfectly slow cooked and waiting for you when you get home. Slow cooker asian glazed chicken!
From: Cafe Delites
22. Full Chicken Dinner
For this meal I used bone-in chicken thighs. I think if boneless skinless chicken is used in the recipe the entire recipe would be very dry. The juices from the bone-in, skin-on chicken thighs help make a flavorful sauce along with the tomato sauce and seasonings.
From: The Magical Slow Cooker
23. 3-Ingredient Slow Cooker Taco Chicken
This 3-Ingredient Slow Cooker Taco Chicken is moist and juicy, just right for making the best chicken tacos. Cooking the chicken slowly in salsa ensures that it will be incredibly moist and tender in your tacos. When you shred the chicken, you'll add back in some of the salsa and juices. This is where you can adjust the amount of liquid, depending on how you like your tacos.
From: Kristine's Kitchen
24. Bourbon Chicken
I've read that Bourbon Chicken got its name because it was supposedly created by a Chinese cook who worked in a restaurant on Bourbon Street. Regardless of the name or how it came to be, this dish is absolutely delicious!
From: Spend With Pennies